Policy of excluding maskless members of the public from school board meetings is challenged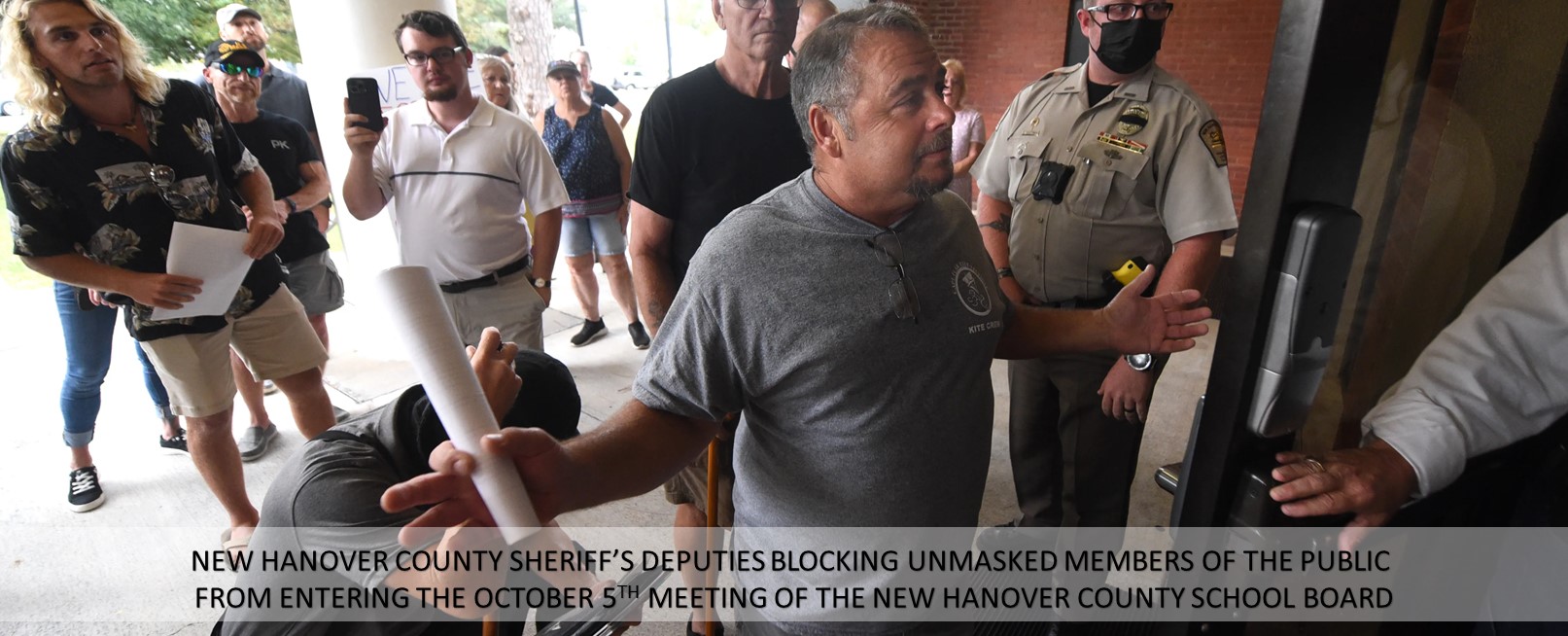 Wilmington, NC - What happened at the October 5th meeting of the New Hanover County Board of Education was disgraceful, a frontal assault on liberty, and something that never should happen in the "Land of the Free and the Home of the Brave." Members of the public wanted to exercise their right to partiicipate in the meeting, but were denied entry by deputies of the New Hanover County Sheriff's Office simply on the basis that they would not wear a mask. In addition, these deputies physically removed several members of the public from the meeting solely on the basis that they had removed their masks once inside. This terrible scene is one that people might imagine happening in a country that is led by a fascist and authoritarian government. However, it is not one that people would expect in a country that purports to have a government that is "Of the People, By the People, and For the People."
The 1st Amendment not only protects our natural rights to free speech and religion, but it also guarantees our right to assemble together and petition our government directly and as a group. This right is also guaranteed by Article I, Section 12 of the NC Constitution, and by the NC Open Meetings Law which clearly states that any person is entitled to attend most government meetings when they are in open session.
The vast majority of people who want parental choice when it comes to children wearing masks in our public schools also consider mask mandates an affront to liberty, and choose to not comply with these mandates. The New Hanover County Board of Education is responsible for reevaluating their school mask mandate policy on a monthly basis. By excluding members of the public from fully participating in meetings where this issue is decided, the Board is practicing viewpoint discrimination that is unlawful and unconstitutional.
I, and the other members of the New Hanover County RLC, cannot sit idly by while these atrocities to liberty continue. Therefore, I initiated a lawsuit yesterday against the New Hanover County Board of Education, its members, the New Hanover County Sheriff's Office, and Sheriff Ed McMahon. I would have preferred that the New Hanover RLC sue these parties as a group. I am sure that the vast majority of our members would approve of such a legal action. However, our group is not in the financial position to afford to hire a necessary attorney for this case. In addition, it would be more difficult to establish standing for the case as a group then it would be for an individual member of the public. The NC Open Meetings Law establishes clear standing for individual citizens to sue government bodies who violate its mandates. Standing for groups of citizens might be permissable, but is less clear. Therefore, I have initiated this lawsuit as an individual citizen, and since I can't afford to hire an attorney either, I am acting pro se.
In addition to the main petition, I have also filed a motion for a preliminary injunction in this case. I am basically asking the Court to at least temporarily order that unmasked citizens be allowed to physically attend school board meetings until this case is fully resolved. To view all documents submitted to the New Hanover County Superior Court thus far, please click the links below. As more documents come in then I will share these with the public as well.
I am a Software Engineer and not a lawyer! I have studied the Constitution, federal and state laws, and have read some US Supreme Court opinions. As a result, I am somewhat confident that I am bringing a strong case in this instance. If our justice system decides to act upon the law, our state constitution, and the US Constitution, this case should be successful. However, it is indeed possible that we will encounter judges in this case that are politically biased, and who also might not respect the arguments of a pro se litigant. I cannot guarantee success. All I can guarantee is that I, along with all the other members of the New Hanover RLC, will keep up the fight for your liberty, and the liberty of your children.