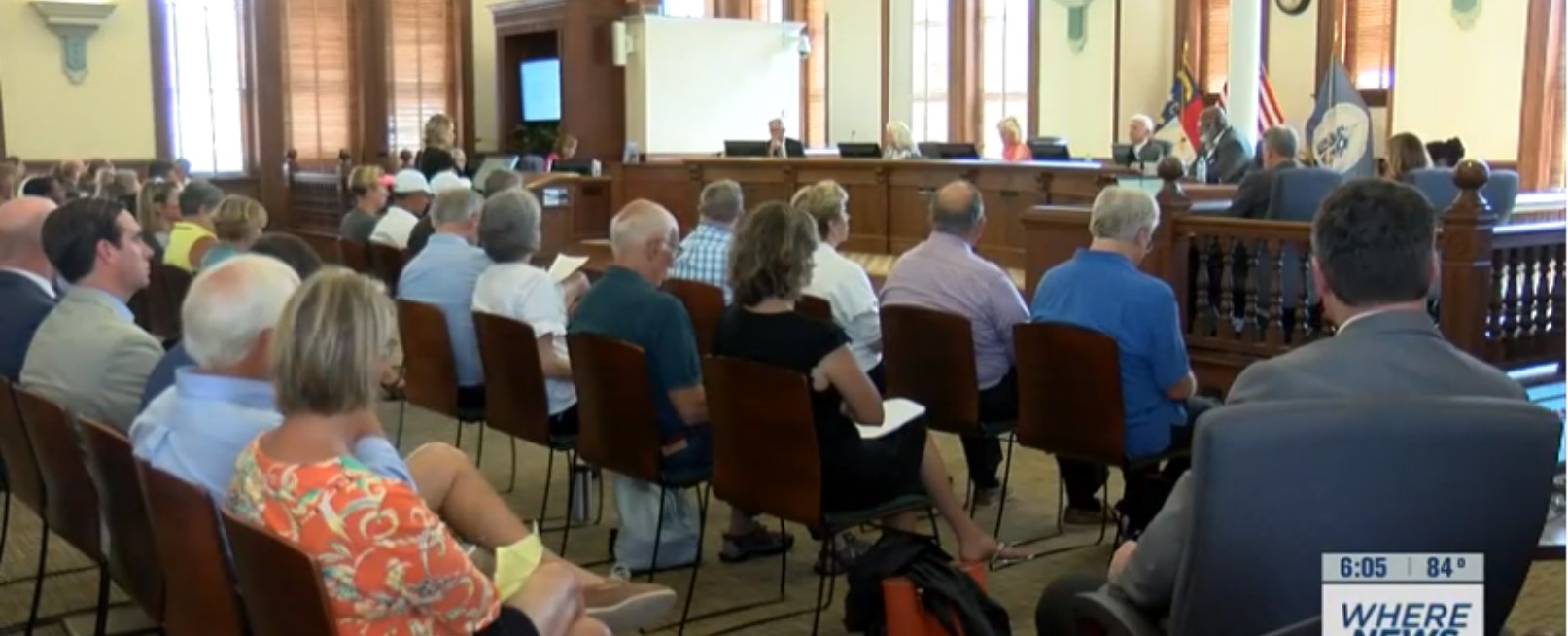 WILMINGTON, N.C. (WECT) - New Hanover County Commissioners voted 3:2 in favor of adopting a $457 million balanced budget that includes property taxes going up (by an average of 12%) at their meeting Monday.
Commissioners Rob Zapple and Deb Hayes cast the dissenting votes. Both said they thought the budget had solid funding priorities, but disagreed with generating the additional funds through an increase in property taxes, saying it put too much burden on the backs of homeowners. They felt other revenue streams were available.
The new budget includes large raises for teachers and county commissioners.
Property revaluations in New Hanover County were recently completed, and the overall property value here increased considerably. State law mandates that a revenue-neutral tax rate be published. That's the tax rate which would generate the same amount of tax revenue for the county if no revaluation had occurred. While the previous tax rate was 55.5 cents per $100 of property value, the revenue neutral rate under the new valuations would be 42.5 cents.
County Manager Chris Coudriet recommended a 47.5 cent tax rate, which is effectively a tax increase of five cents per $100 valuation for county residents.
The proposed budget from the county called for $461 million in spending, which would have been a 16% increase from last year's budget. They ultimately adopted a $457 million budget.
"We have clear priorities and sustainable investments in this budget to make our community better and ensure every single resident – from our youngest to our oldest – has the resources and support they need to thrive," said New Hanover County Board of Commissioners Chair Julia Olson-Boseman. "Our tax rate will be lower than most other counties our size, and will make important investments in public health and safety, economic development, parks and trails, and county employees who serve the public and make our work possible. This budget also makes a strong and clear commitment to public education, which represents about 38 percent of the county's overall budget."
The budget, intended to provide strategic enhancements to benefit the community:
Provides $22.5 million to Cape Fear Community College for operating expenses and debt service.
Allocates more than $10 million in new health and safety enhancements that are focused on infrastructure and technology needs, materials and tools to plan, prepare for and respond to emergencies, an Emergency Logistics Center, and 21 new county positions in Health and Human Services and the Sheriff's Office to directly address diversity, workloads and mental health.
Funds $4.1 million for new multi-use trails and the development of Hanover Pines Nature Park.
Lowers the fire services tax rate for residents in the unincorporated county to 7.25 cents and allocates $124,500 for a diversity program within Fire Rescue that focuses on increasing minority recruitment in partnership with Cape Fear Community College.
Supports 35 nonprofit agencies with $1.05 million in funding and an additional three nonprofits with $278,231 for year two of three of the county's Social Impact Fund pilot program.
Invests $121.5 million in New Hanover Public Schools, increasing per pupil spending to $3,434, adding three more Pre-K classrooms, and increasing teacher supplements from an average of $4,183 a year to an average of $9,000 a year, placing New Hanover County at the very top in the state for teacher supplements.
Recently, County Commission Chair Julia Boseman called for a significant increase in funding for public schools. She wanted a $527 increase in spending per pupil and to increase the teacher supplement to $9,000 per teacher, which is about double the county's previous teacher supplement.
More details about the county's investments in education can be found in Chair Olson-Boseman's editorial here.