Help Us Aid Melissa Mason and Harry Knight to Victory on May 17th!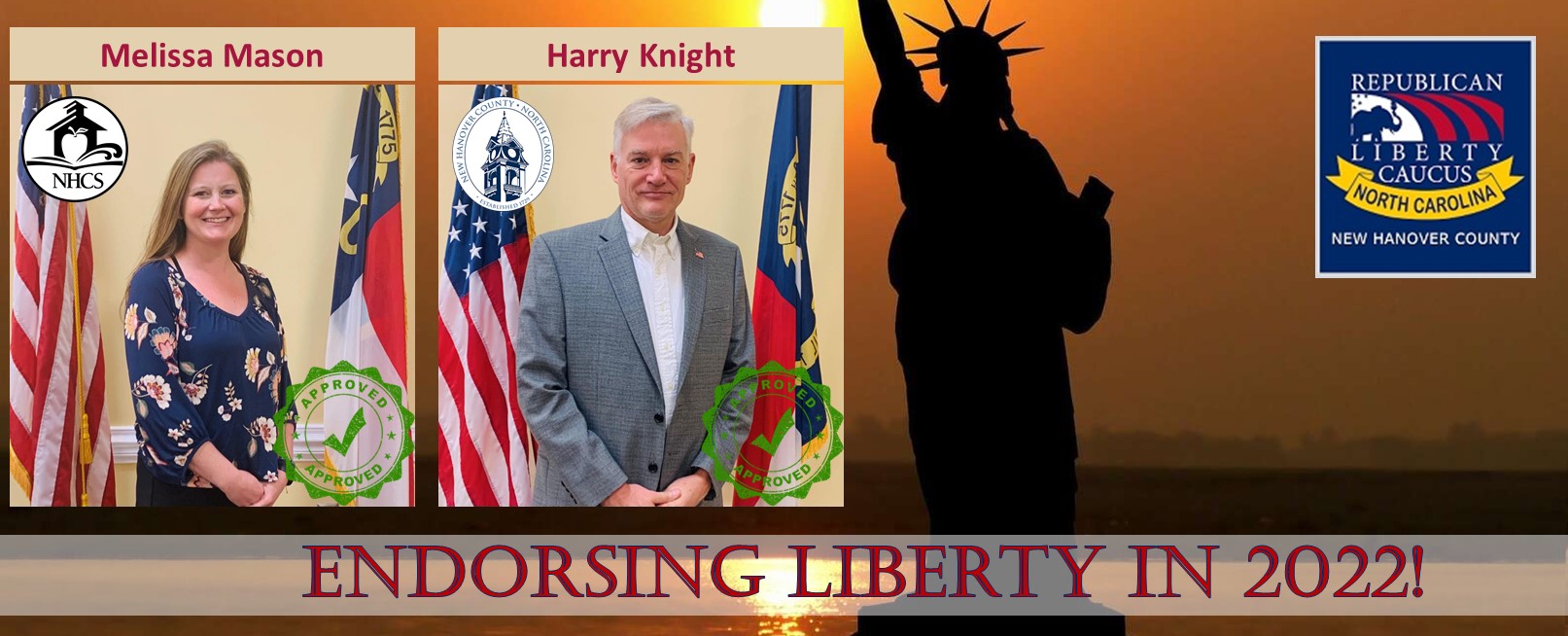 Wilmington, NC - The New Hanover County Republican Liberty Caucus is pleased to announce its official slate of endorsed 2022 candidates for local office - Melissa Mason & Harry Knight. Melissa is one of the 5 Republican candidates who are running for 4 open seats on the New Hanover County Board of Education, while Harry is one of the 4 Republican candidates who are running for 2 open seats on the New Hanover County Board of Commissioners. Both have expressed views on the issues that closely align with those of our organization, and each has committed themselves to defend liberty, work towards the goal of limited and constitutional governance. and to be fiscally conservative. We applaud them both!
Endorsement by the New Hanover RLC is a whole lot more than simply a seal of approval. By endorsing these candidates our organization has committed itself to do whatever is in its power to aid these candidates to victory in their May 17th primaries. While the New Hanover RLC will not coordinate directly with the campaigns of these candidates, we are planning a full slate of independent activities to ensure their victories. Over the next 2 1/2 months our Endorsement Committee will be operating fundraising events, purchasing advertisements, and organizing "boots on the ground" volunteer efforts to spread the "good word" about these two candidates. Your help is essential! The more people that we can get involved, the more we can do to help these liberty candidates win. Once these candidates make it through their primaries they will receive all kinds of help from all sorts of groups within the Republican Party. The tricky part is getting through the primary process, where establishment RINO politicians usually have a large advantage in money. That is the reason why every true lover of liberty must get involved now.
If you want to be part of an organization that is actively fighting for our liberty then please Join Today! If you want to become actively involved in helping these two great candidates win then please contact the Chair of our Endorsement Committee, John Pflug, at john.pflug@newhanoverrlc.org.
The Process
Some members of the public have not understood that official endorsement by the New Hanover RLC is a three-step process. First, there is the work of our local Endorsement Committee. That committee identified all the Republicans running for these offices and sent out an office-specific candidate survey that was due by March 11, 2022. Then members of that committee carefully reviewed and graded each survey, discussed the candidates, and voted on whether to recommend that these candidates be endorsed by the local membership of the New Hanover RLC. The committee voted to recommend Melissa Mason (Board of Education), Chris Sutton (Board of Education), and Pat Bradford (Board of Education) for endorsement. Next, we held a special meeting of the membership on March 19, 2022 so that all the members would have an opportunity to vote. In addition, we contacted each of the candidates who submitted surveys to attend and answer the questions of the membership. Harry Knight, Melissa Mason, and Chris Sutton attended. Any candidate who filled out a survey was eligible to be nominated for endorsement, and not just those who were recommended by the Endorsement Committee. As a result, a motion for Harry Knight to be endorsed was made, seconded, and the membership voted to endorse him. Melissa Mason and Chris Sutton (not needing a motion or a second because it came from committee) were both approved for endorsement by the membership. The membership voted not to endorse Pat Bradford, despite the recommendation of the Endorsement Committee. Finally, there is an approval process. The New Hanover RLC is a local chapter of the statewide and nationwide Republican Liberty Caucus, and is subject to state and national rules regarding endorsement. One of these rules is that endorsements made by a local RLC chapter, like the New Hanover RLC, must be approved by Candidate Vetting Committee of the North Carolina RLC. The names of Harry Knight, Melissa Mason, and Chris Sutton were submitted to this committee last weekend, reviewed by the committee on Monday and Tuesday, before it voted on Wednesday. The Candidate Vetting Committee approved our endorsements of Harry Knight and Melissa Mason, but rejected the endorsement of Chris Sutton. As a result, the official slate of New Hanover RLC candidate endorsements (Melissa Mason & Harry Knight) became finalized.
A Special Word About Pat Bradford
Pat Bradford was recommended for endorsement by the Endorsement Committee, but her endorsement was ultimately voted against by our membership. Part of the reason for this might be attributed to the fact that she did not come to the special meeting of March 19, 2022 in order to speak and to answer questions. The next day our Chair, David Perry, received a phone call from Pat and Pat informed him that she had sent an email to him on the Friday night before the special meeting that requested Zoom information for the meeting. She had wanted to be able to participate in our special meeting virtually, but since our Chair never saw the email in time, the Zoom information was never provided, and Pat Bradford was denied an opportunity to be heard. We have issued a public apology to Pat for this oversight and offered to make things right by calling a special meeting sometime this week where she could speak, answer questions, and where we could reconsider her endorsement. However, Pat Bradford has decided that she no longer wanted to seek our endorsement at this time, and no such meeting will be immediately called. Pat has indicated that she might be interested in pursuing our endorsement once the May 17th primary is over. If she is interested, and if she makes it through her primary, we would be happy to schedule a meeting to reconsider her endorsement.
A Word of Thanks
We want to thank all the candidates who applied for the endorsement of the New Hanover RLC. If we didn't endorse you it wasn't because we think you are a bad candidate or a bad person. We just have to concentrate our efforts on aiding candidates that are very closely aligned to the cause of liberty and to our views on the issues. Rest assured, we will not be engaged in any negative campaigning towards you. We will just be doing our best to make sure that the voters know how great Melissa Mason and Harry Knight are, and we will be engaged in positive campaigning that will help them win on May 17th.